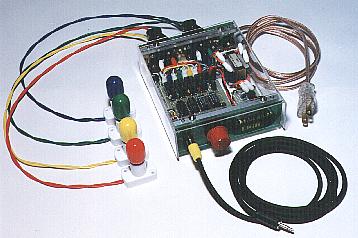 This equipment can change the analog signal of the music and so on into the flash of the lamp.
I made this circuit based on the idea of Mr.Yoram Peres.
It is possible to make compactly if using the IC of the exclusive use to display the level of the signal. However, I made with the circuit which used the general IC because of the following reason.

The acquirement of the part is easy.
The operation of the part and the circuit can be understood.
The optional detection level can be set.
It is possible to do the application.

It is possible to make the lamp of the Christmas tree flash according to the music using the output terminal, too. The about 40-W lamp can be connected with the outside. To control any more electric power, the relay must be used.


---