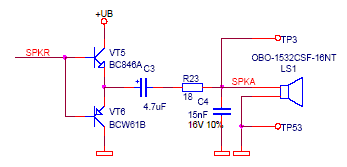 The SPKR line is driven by TIOCB1/TCLCKC, pin 4 of the HD6472246 (the H8S main processor). UB is the unregulated battery supply so there should be a 2.4 volt swing before the 18 Ohm R23.
---
---
©2019 These pages are served without commercial sponsorship. (No popup ads, etc...).Bandwidth abuse increases hosting cost forcing sponsorship or shutdown. This server aggressively defends against automated copying for any reason including offline viewing, duplication, etc... Please respect this requirement and DO NOT RIP THIS SITE. Questions?
<A HREF="http://techref.massmind.org/techref/cybiko/speaker.htm"> Cybiko Speaker</A>
---
Did you find what you needed?
---
| | |
| --- | --- |
| | Welcome to techref.massmind.org! |
.