The Design Objective
The purpose of this particular tutorial is to draw a schematics of the following Circuit in OrCAD.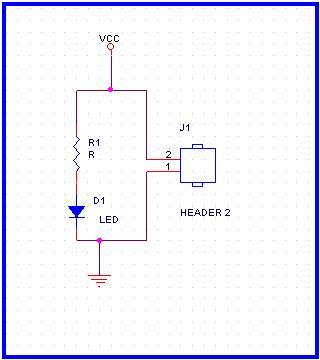 * This is a very simple circuit. Its functionality is to make an led D1 glow when a Power Supply is connected at the connector J1. This is a "hello world" of the Schematics Capture.
* As shown in the Schematics, the circuit uses three components
R1
J1
D1
* Each component will have an associated footprint. We have given the followint names to the footprints of the components used.
| | |
| --- | --- |
| Component | Footprint Name |
| R1 | R0603_1 |
| J1 | HEADER2 |
| D1 | LED |
In the next few pages we will place these three components.
Next: Placing Symbols
Also:
See also:
---
---
©2020 These pages are served without commercial sponsorship. (No popup ads, etc...).Bandwidth abuse increases hosting cost forcing sponsorship or shutdown. This server aggressively defends against automated copying for any reason including offline viewing, duplication, etc... Please respect this requirement and DO NOT RIP THIS SITE. Questions?
<A HREF="http://techref.massmind.org/techref/app/orcad_02.htm"> OrCAD, Design Objective, Schematic capture, PCB CAD</A>
---
Did you find what you needed?
---
| | |
| --- | --- |
| | Welcome to techref.massmind.org! |
.