SX Microcontroler based Modems
Useing Virtual Peripherals, software modules that replace a traditional hardware peripheral, these "Virtual" modems take advantage of the SX architecture's high performance and deterministic nature to produce same results as the hardware peripheral with much greater flexibility.
Bell-103 300Baud FSK Modem This application demonstrates the generation of FSK tones to simulate a 300 Baud modem
Source 1.08 04/16/99 This simple program encodes an outgoing bell103 signal. This program only creates the answer frequencies, since it cannot dial out to originate.

To use this program, connect the SX-DTMF-DEMO board to a phone line and to a PC. The communications settings are 300,N,8,1. Now, from a remote BELL103 modem, simply dial the modem's number. When you hear the line ringing on the dialing modem, press a key in the comm window of the SX-modem-board. This should force the modem board off-hook and cause it to send out an answer tone for 3 seconds. Once the answer tone is sent, the modem board will begin modulating the state of the RS-232 pin onto the carrier. If the terminal program is set up correctly, you will be able to receive the sent characters on the remote modem.
Bell-202 1200Baud FSK Modem This application combines Bell-202 1200Baud FSK I/O, DTMF output and 1200bps UART. Also includes AT command interface. Designed to be compliant with the Bell-202 specification and Scenix SX Modem evaluation board. Virtual Periperals used in this integration include: DTMF (Dual Tone Multiple Frequency Signalling) generation for dialing, FSK (Frequency Shift Keying) generation for transmitting data, FSK detection for receiving data, UART (Universal Asynchronous Receiver/Transmitter) for RS-232 communications with a PC, 16-bit timer for delay routines/flashing LED.
Also: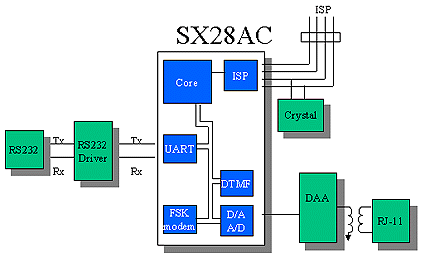 Bell-212 2400Baud V.23 PFSK Modem Telephony Solution-V.23 Originate Mode Reference Design. Ubicom' modem reference design provides a complete system solution for a V.23 modem in originate mode. It's main purpose is to provide a user the capability to quickly embed the Ubicom solution into applications that require the use of a low-speed modem. The Ubicom solution consists of: SX28AC communication controller with V.23 modem Peripheral software modules loaded into the on-chip flash/EEPROM; an RS232 jack and line interface circuit for data-side connection; a line driver (DAA) and RJ-11 jack for telephone-side connection; an operational amplifier (op-amp)/resistor-based adjustable hybrid circuit to accommodate various line impedance. The V.23 modem is compliant with the CCITT V.23 standard and it has been tested in accordance with the FCC (Federal Communications Commission) standards.
Also:
---
file: /Techref/scenix/lib/io/dev/modem/index.htm,

5KB,

, updated: 2013/7/23 10:27, local time: 2023/12/11 10:40,
---
©2023 These pages are served without commercial sponsorship. (No popup ads, etc...).Bandwidth abuse increases hosting cost forcing sponsorship or shutdown. This server aggressively defends against automated copying for any reason including offline viewing, duplication, etc... Please respect this requirement and DO NOT RIP THIS SITE. Questions?
<A HREF="http://techref.massmind.org/Techref/scenix/lib/io/dev/modem/index.htm"> SX Microcontroler based Modems</A>
---
Did you find what you needed?
---
| | |
| --- | --- |
| | Welcome to techref.massmind.org! |
.